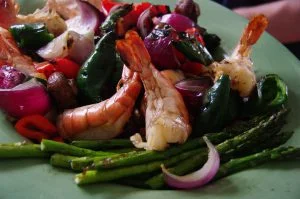 You know that eating Mediterranean-inspired dishes can be good for you, right? Come to think of it, with all the healthy benefits Mediterranean diet recipes bring, you will only be denying your body a lot of good and increasing your risk of developing a number of potentially life-threatening diseases if you continue to eat the way most Americans do. Would you rather choose to remain on that path rather than make a change for the better?
Research proved time and again that the Mediterranean way of eating can actually help you manage your weight as well as your blood pressure and cholesterol levels. It can also help reduce your risk of developing type 2 diabetes, heart disease, cognitive disorders (such as dementia and Alzheimer's disease), several forms of cancer and a host of other chronic diseases.
Honestly speaking, if a lot of people will know how good the Mediterranean diet really is, there will be a lot less misery in this world. Just imagine living in a world where majority of the people enjoy good health! Wouldn't that be a dream come true for all of us? Well, I guess the answer is quite obvious.
But before you start enjoying all the healthy goodness of the Mediterranean diet, you need to know how to prepare it. After all, even the freshest organically grown ingredients cannot guarantee that you will get all the promised health benefits of the Mediterranean diet if you don't know how to cook them right.
The Right Way of Cooking Mediterranean Dishes
More than just using the best ingredients, you also need to know how to best cook your Mediterranean dishes to keep all the nutrients intact. How do you do it? To help you get started on the right path, here are some suggestions that you may find useful.
For Grilled Mediterranean Diet Recipes
A lot of Mediterranean recipes are prepared by grilling some of the main ingredients, whether it be meat, fish or vegetables. Some good examples may include grilled leg of lamb (served with either curry and spices or with garlic and white beans), grilled green beans and carrots in charmoula sauce, grilled eggplant with pesto and mozzarella, grilled pork and grape kebabs and Mediterranean grilled sea bass with oregano and coriander, to name a few.
In preparing grilled Mediterranean dishes, make sure to follow the following suggestions:
Don't put your food too close to the fire. Make sure you keep a good four inch distance between the glowing embers and your grill.
Avoid overcooking. Constantly check on your food to prevent burning.
For Fried Mediterranean Dishes
While frying was previously thought of as an unhealthy way to prepare your foods, doing it the Mediterranean way will not increase your risk of heart disease. According to a report published in the January 2012 issue of the British Medical Journal, expert researchers at the Universidad Autonoma de Madrid in Madrid, Spain disclosed that they have not found any solid evidence linking the consumption of fried foods to the incidence of heart disease or for deaths resulting from all other causes.
However, it may be important to note that the participants in this study use healthy oils (such as olive and sunflower oil) in frying their foods. It is also important to consider that the results were attained under the context of a healthy Mediterranean way of eating. Most Mediterranean people usually season their foods with just a small amount of salt and lots of healthy herbs and spices. They also make it a point to eat a more balanced meal every time.
For Baked Mediterranean Diet Recipes
If you want a truly healthy Mediterranean recipe, you would never go wrong by baking your foods. Most baked Mediterranean diet recipes simply call for seasoning your food (be it fish, meat, poultry or vegetables) with a little salt and lots of herbs and spices, and putting it into your oven. Consider Mediterranean stuffed peppers, baked fish with Mediterranean olive spread, Mediterranean chicken with roasted vegetables and baked sea bass with romesco sauce. These are all absolutely plain and simple to prepare yet yummy and nutritious at the same time!
Considering how easy it is to prepare all these Mediterranean diet recipes, there really is no reason why you shouldn't try it. And with the all the things it can do for your health, you surely have everything to gain and nothing to lose!
Has today's post brought something new to the table? I hope it did!
Here's to the start of a lifetime of healthy Mediterranean cooking,
Ray Baker