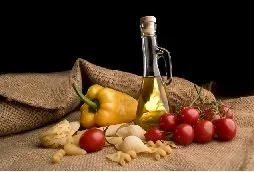 Any Mediterranean diet enthusiast knows that you can't really talk about the Mediterranean diet without having to mention the secret and magic ingredient of all the best Mediterranean dishes: "extra virgin olive oil."
A Mediterranean diet is all about fresh vegetables, fruits, fish and yes, olive oil. Studies have shown that the Mediterranean diet is extremely healthy and high in fiber. Aside from the most basic and most natural ingredients, extra virgin olive oil has been considered as one of the main reasons why the Mediterranean diet can help a person lose weight and live a happier and healthier lifestyle.
The Extra Virgin Olive Oil History
Given that the olive tree is native to the Mediterranean basin, it is not surprising to know that the people from this region has been using olive oil since the ancient times.
The Greeks started turning olives into oil at around 4000BC. The olive oil has been used in many different ways during this period and it has been used not only to improve the taste of food, it was used for many other purposes: medicinal, religious, skin care and even as fuel in lamps!
Olive oil has been used in many, many ways and the ancient Greek poet Homer even called the olive oil as the "liquid gold"- a term fit for it.
Now, after the olives turned into olive oil, fast forward to thousands of years and a big fascination on the benefits of the Mediterranean diet, the olive oil has evolved into the much sought-after and expensive extra virgin olive oil.
"Extra Virgin" Olive Oil
Now, one of the first questions a Mediterranean newbie (actually, anyone who first hears it) will ask, "What makes an extra virgin olive oil, extra virgin?"
By itself, olive oil is made by extracting the oil out of the olive fruit through chemical or mechanical means. Olive oil is naturally composed of different fatty acids that are proven to help lower cholesterol and improve someone's health.
So what makes the ordinary olive oil into an extra virgin olive oil?
Simply put, the extra virgin olive oil is the Cadillac of olive oils. It is the result of the first crush and there is no heat nor chemicals  involved.
It should only be made with the freshest and highest quality olives. There are many considerations and requirements that need to be followed to make sure that the extra virgin olive oil is indeed extra virgin.
Extra virgin olive oils have three major characteristics: it must have a pleasant spicy fruit flavour, it's a bit bitter and creates an acrid flavour sensation and it can create a pleasant burning sensation in the mouth and throat.
How the Extra Virgin Olive Oil Works
People in the Mediterranean uses extra virgin olive oil a lot in most of their dishes primarily because it is their culture and they're used to using this as an alternative to vegetable oil or margarine.
Extra virgin olive oil contains many vitamins and minerals that aid in metabolism and controlling cholesterol levels. Just by its nutritional value alone (extra virgin olive oil is a source for Vitamins K, E and A), it's no wonder why it's a staple in the Mediterranean diet.
About 55- 85% of the fatty acids in the extra virgin olive oil is made up of oleic acid or omega 9. Oleic acid helps keep a person's arteries healthy and continued intake of it in the body helps in preventing cancer.
Studies have also shown that extra virgin olive oil helps lower blood pressure. The study shows that if consumed on a regular basis, extra virgin olive oil can help reduce or eliminate the need for medications or pills for blood pressure. Speak to your doctor and raise this subject.
This is your health we're talking about so don't hold back. If you want to learn more and get some extra free information get my eBook have some fun getting healthy. Here's the link to my Mediterranean diet eBook and other related stuff.
I hope you have learned at least one think from this article,
Ray Baker